Trying to build up your savings is one of the hardest things to do when money is tight. So many of us are living paycheck to paycheck and can barely find the money for their next meal, how in the world are we supposed to build their savings?
When you think about having $2600 in your savings next year, how does that make you feel? Pretty darn good, eh? (Wow, there's the daily proof that I'm super Canadian).
Saving money doesn't have to be as hard as we make it out to be. If you were to implement a few of these 10 small changes into your life you can easily save $50 a week and make this goal a reality. Let's make it happen! $2,600. 12 months. You got this.
How to Save an Extra $50 a Week
Use Acorns to Invest Your Spare Change
Do you ever wish that you could invest your money without having to really think about it? Well, Acorns might be the answer to all of your investing woes. This app is seriously amazing guys, it's so cool!
Acorns automatically invests your spare change. How? Well, they connect to your bank account and round up your purchases and invests the difference. For example, let's say you spent $10.15 on chipotle for lunch today, Acorns would automatically round that up to $11 and invest the 85 cents.
Get a FREE $5 bonus when you sign up for acorns using our exclusive link!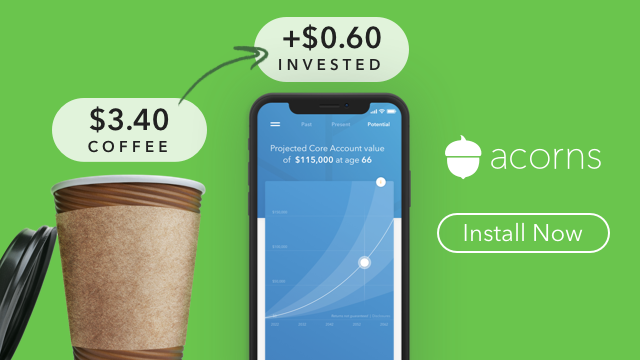 Use Digit to Save The Right Amount
Sometimes we just aren't sure what is a safe amount of money for us to put towards savings each month. I know it can be confusing because you don't want to put $100 in your savings and then realize that you have to pay a $100 bill in a few days.
Well, Digit will completely analyze your spending and save the perfect amount for your personal situation. Digit also lets you set specific goals to save for, so if you're saving for a trip and a car downpayment, it'll put a certain percentage of your savings into each account.
Digit is awesome because it learns how YOU spend which means that you don't need to change your lifestyle to be able to save. This may sound too good to be true but guys, digit has helped me saved hundreds of dollars this year and it's been amazing.
Try digit for FREE for your first 30 days!

Try Free Entertainment
As a 20-something, most of my social invites include nights out at a bar or an expensive dinner with friends. The key to being able to save money is to satisfy the need for social interaction by figuring out some great free or super inexpensive alternatives to going out every Friday night.
Some of the most fun nights I've had with friends were game nights, which costs no money if you already own the game. Game nights are great because you can sit around for hours eating cheap snacks and having a bottle of wine.
Another inexpensive option is having a potluck dinner with your friends instead of going out to dinner. Everybody brings a few dishes and some drinks and you get to try all sorts of variety!
Cancel Subscriptions You Don't Use
We live in an age of subscription boxes and online streaming services for just about everything you can imagine. These subscriptions end up costing us hundreds of dollars a year and can really hurt your ability to save money. How many of these subscriptions are actually absolutely necessary for your day-to-day life?
An awesome way to keep track of your finances and be able to easily cancel subscriptions you no longer want/need is to use Trim.
Trim is like your very own personal finance assistant that can help you cancel subscriptions you no longer want, you can legitimately text the app something like "cancel spotify" and it will do it for you. HOW COOL IS THAT? This is the future guys.
Sign up for Trim for FREE today!
Get Discounted Workout Classes
If you're anything like me, you love the atmosphere of a workout class because it makes you work harder and you have a ton of people in the room to keep you motivated. However, workout classes are stupid expensive. Especially spin classes, ugh!
I really hate paying full price for workout classes, so I'm glad I've heard about classpass! You can get classpass and have access to discounted workout classes and try a bunch of classes you didn't even know existed.
You can get your first 2 weeks of classpass FREE!

Plan Your Meals Ahead of Time
Meal planning is really important when it comes to keeping your grocery bills at a reasonable level and not spending tons of money eating out. Failing to plan means planning to fail!
Recently, I discovered this website called $5 Meal Plan where for only $5 a month they'll send you a detailed meal plan for each week and a grocery list! That's 4 meal plans for only $5, how crazy is that value? I'm the type of person who would cook the same 5 meals every week if my family would let me, but $5 meal plan keeps it super interesting.
You can try $5 Meal Plan FREE for two weeks, woot woot!
Make Your Savings a Bill
A very popular personal finance quote is "do not save what is left after spending, but spend what is left after saving." This is a great financial principle to live by. There are so many of us going through our lives thinking that we don't have the money to be able to build up a savings account because we have "too many expenses" but let's be real, if we try harder, we could make it work.
To keep yourself more consistent, you can setup an automatic payment every week that you get paid that will shoot straight towards your savings account. It can be as small as $5 a week to start, you won't even realize the money is gone.
Once you realize that you don't miss that $5 a week, you can increase it to $10 and so on. Saving money is best when you don't have to think about it, and you don't see the money first.
Use Paribus for Price Drops
Okay, please tell me this happens to other people. Have you ever bought something online that you've been wanting forever only to go on the website a few days later (before the product even got delivered) to see that the price has dropped like $20? UGH! This happens to me all the time.
That's why I'm so glad I found Paribus! This service is seriously awesome, it connects to your email to scan your receipts and confirmations to notify you if there's been a price drop on anything you've recently purchased.
Even better? Paribus doesn't make you life a finger! They do the work for you and get that money back so you can save tons insanely easily.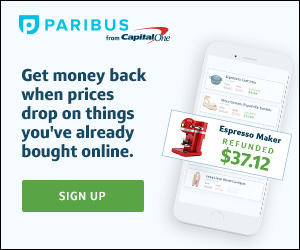 Shop at Discount Stores First
When you're young you want to be seen as cool by your peers, and let's be real, discount stores aren't the coolest, but saving money sure is! (I am a dork, I'm aware).
Discount and dollar stores have a lot of awesome brand names and cheap stuff that you can get for half the price compared to a regular big box store and they (usually) work just as well. It's all about perception.
If you need people to perceive you to be this super bougie person who can afford to spend an extra $5 for laundry detergent, do your thing, but you won't be able to save money very easily.
Make Your Coffee at Home
I totally understand your need to caffeinate in the morning, there are some days where I swear I wouldn't be able to function without caffeine. However, I'm definitely not the type of person who needs to go to a fancy coffee shop and spend more than $5 every single day.
A great way to save money is to invest in a decent thermal mug, and a french press, and make your coffee at home. It'll taste great (maybe not starbucks great, but great) and you'll save $2-3 dollars a day!
Cut Out Junk Food
Ahh, the dreaded cutting out of things that make us feel good. This is one of the tips that will help your wallet and your waistline, more bang for your buck.
Junk food is one of the most expensive foods you can buy for the amount of nutrition that is actually inside of it. Cutting out junk food will make you not only feel better physically, but it will also make your wallet fuller.
I'm definitely guilty of using junk food as a way of rewarding myself when something good happens, but also as a crutch when something goes wrong. I know I'm not alone on this one, who's with me? I know that when I go on a junk food ban I always end up with a ton of extra money at the end of the month.
Earn Cash Back Online
It's really important to make sure you can get the most bang for your buck when making purchases, since we can't just go on a lifetime long shopping ban and save all the money. That's why I love getting cash back on things I'm going to buy anyway.
My favourite place to get cash back is Ebates because they have THE BEST websites, like Amazon and Sephora. You can get up to 10% cash back on your purchases, and the service is completely free.
Try Ebates Free & Start Earning Cash Back!
Earn Cashback on Groceries
Speaking of getting cash back on things you're already going to buy, why not get cash back on groceries since we all need to eat? Sounds good, right? Well Checkout 51 might be the answer!
Checkout 51 has new offers each week and different things earn cashback each week so you can get TONS of cashback!
Try Checkout 51 For FREE Today!
Buy Generic
Anything you aren't able to buy for cheap at a discount/dollar store, you can probably find a cheaper brand at the grocery/big box store. The crazy thing about generic brands is a lot of the time it's made by the exact same company and it's the same product. They just spend less money advertising the generic brand, so they don't need to charge a mark up.
You don't need to be paying for an insane mark up, on a product that will never leave your home!
Save on Heating and Cooling
Heating and utilities end up being a pretty big chunk of someone's monthly expenses. There are a ton of great ways to save money on heating and cooling costs especially, I'll throw you a couple easy tips.
Put on more clothes when the weather gets colder! Winterize your windows and doors to keep that pesky breeze outside where it belongs! Wear extra socks! Get slippers! And when the weather gets warmer, get naked if you need to.
Growing up, I lived in a 100-year-old home that was horribly insulated and my mother wouldn't turn the heat on until the outside temperatures were at least below freezing, so I've learned to layer and get some blankets to save on heating.
Final Thoughts
I know, saving money sucks. It isn't fun and it's no fun to talk about. Honestly, developing habits of frugal people can change your entire life and how you view and use money every day. Just try and implement a few of these money saving tips at a time and try and build up that protective money cushion before it's too late.